Consumer Products
The consumer products (CPG, or "consumer packaged goods" for short) industry has long been a stalwart of the MBA hiring process.  After all, what newly-minted MBA wouldn't want to drive strategic initiatives for high-profile brands they can use themselves, can see on TV, or go touch on a store shelf?  We analyzed our 250,000 verified data points to find out a little bit more about what MBAs should expect if they're thinking of careers in the CPG.
For the purposes of this analysis, we've aggregated CPG and Food, Beverage, & Tobacco roles together except where indicated.  To see a more detailed breakdown, just sign in or sign up for free.
Total compensation of graduating MBAs accepting full-time offers averaged $146,000 (28th percentile among all industries).  Salaries averaged $104,000 (30th percentile), and huge signing bonuses – a typical hallmark of industries that hire heavily from established on-campus pipelines – of $21,000 on average.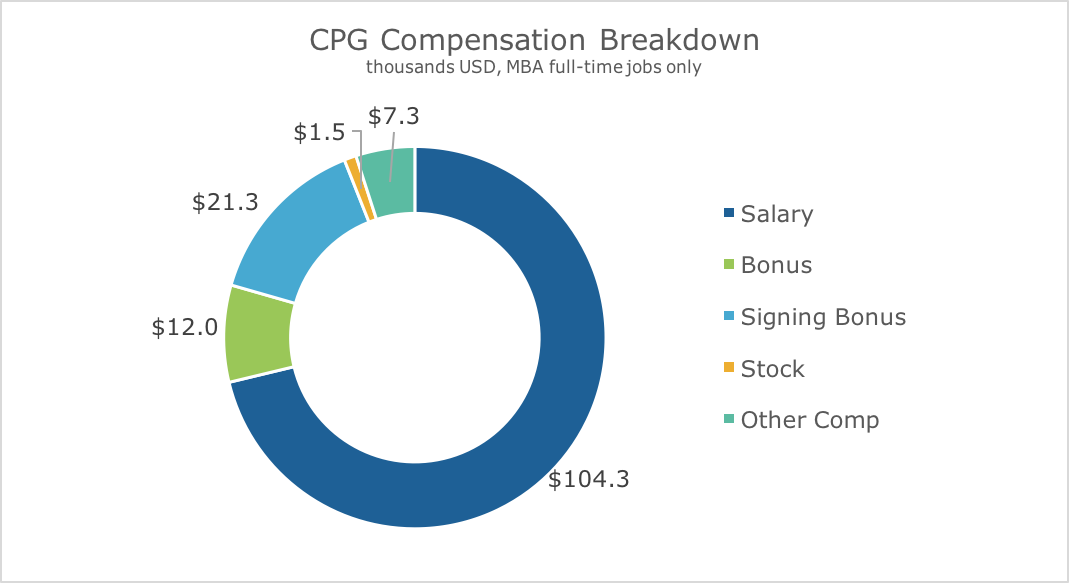 While not nearly as attractive as the enormous compensation packages for bankers, consultants, and investment managers – often well above $200,000 including performance bonus – consumer products companies rely on different aspects to lure top talent, like work-life balance.
In fact, MBA grads in CPG reported working just 45 hours/week on average, well below the postgraduate average of ~55 hours per week.  Moreover, data shows an extremely low travel ratio of just 11%, with 2/3rds reporting no travel at all.  These aspects certainly contribute to making the industry attractive relative to those with comparable recruiting timelines, like consulting.
Another aspect luring top MBAs could be the ability to make a tangible impact in their work.  At TransparentMBA, we find that one of the most closely-correlated variables with job satisfaction is "impact of work", where CPG careers score above average.  The ability to create and own projects, products, strategic initiatives, and even entire budgets in these large companies no doubt attracts MBA grads anxious to flex both their analytical and operating skills.
Within CPG, the functional expertise centers mostly on the belle of the ball for these companies: marketing.  Heavyweight companies in the space – like PepsiCo and Coca-Cola, AB Inbev and MillerCoors – engage in epic marketing battles to move market share against each other, and they battle for top talent at MBA programs to help them do it.* That's why our data points to 71% of hires in the industry working in marketing roles, with 80% of those being brand management positions.
*for some interesting reading about CPG's increasing need for top talent and MBA skillsets, check out this analysis performed by McKinsey
But, there's room aplenty for other areas of interest too – like corporate finance (12% of hires), general management (5%), and corporate strategy (4%).  Some of the larger companies offer other robust rotational programs spanning several functions other than brand management, like AB Inbev's Global Leadership program.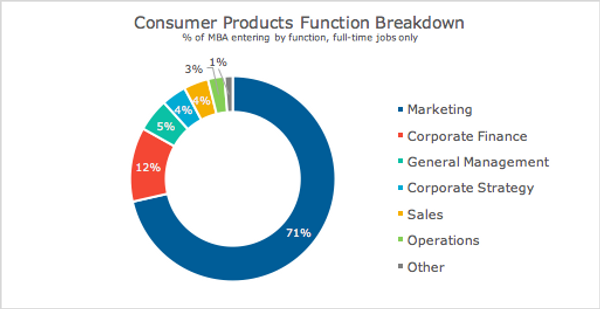 Companies in the consumer products industry hiring MBAs tend to reflect, well, the size of the companies, so you'll recognize most of the most popular ones in our database (note: for the full list and detailed information by company, just visit our Career Explorer and drill down):

That said, various companies have tendencies to promote from within as well, so MBA positions may be more limited than others.  Do your research with your career services office to see which recruit at your school, how many applicants they each tend to receive, and how many hires per year they make from your program.  You'll also want to check what their hiring timelines might be (we offer our own pan-MBA recruiting timeline here).
If you're an MBA or applicant interested in the space, go for the internship in your first year; these companies very much view their summer interns as extended interviewees.  If you want a better shot at breaking in, it's best to start early – networking, researching, and case competitions all will help build your case with the top employers.  Our data does show some MBAs that switch companies from their summer internship, but you'll be subject to some pretty aggressive timelines during your first couple of months back on campus as a second year (and who really wants that when you could be blowing that huge signing bonus on some sweet trips?).  For those recruiting for consumer companies, check out this excellent article by Forbes, which outlines some key considerations during your job search.
Location-wise, it's fairly well-spread around the US.  The location-constrained might want to aggressively target firms that meet their geographic requirements, since working at headquarters is often an absolute requirement, and some companies may be in less-than-major metropolitan areas (e.g. General Mills in Minneapolis, Whirlpool near Grand Rapids, MI, Altria in Richmond, VA, etc.).  Luckily, there are enough consumer companies interested in hiring MBAs in most cities that if you're picky on, say, the Bay Area, you'll have at least a few potential options in Clorox, E&J Gallo Winery, and Nestle's ice cream division.
So, what kind of talent are these companies seeking?  Well, the data is incredibly fragmented by pre-MBA function and industry. Former consultants and those coming from previous roles in marketing are prominent, but it's a long tail.  In fact, CPG attracts roughly equal numbers of former corporate strategists, engineers, salespeople, and financial analysts.
One interesting thing about consumer goods: more than almost any other major post-MBA career, it's a woman's world in this industry.  Astoundingly, 56% of those entering CPG as their full-time career identified as female*.  Contrast this with an overall female/male ratio of around 37% in our MBA database, and an interesting trend becomes clear for consumer product roles. This analysis performed by Monster points to the high need for creativity, collaboration, and ability to "break the glass ceiling" in brand management.
*Note: we collect data in an open-text gender identification, so the numbers included are only those reporting either "male",  "female" or "transgender".
Questions, comments, ideas? Reach out.
Want access to the full data set, including company- and position-specific information from real MBAs? Sign up for free.